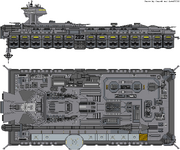 The John F. Kenedy Class is a series of space capital ships used by the United Nations International Forces (UNIFOR) during the Chig War. They were built by Aero-Tech.
Space Naval Carrier
Aero-Tech Design Project 2800
Length - 525.60 meters
Helium 3 Fusion Engine
Chemical Rocket Engine
Bussard Ramjet
Kinetic Particle Accelerator Cannon
1.2 GW Laser Pulse Cannon (LPC)
450 MW Laser Pulse Cannons (LPC)
300 MW Laser Pulse Cannons (LPC)
50 MW Laser Pulse Cannons (LPC)
Phalanx II Missile Launcher

30 (Two Turrets of Fifteen Tubes)

KEW/Torpedo Launcher
USS John F. Kennedy SCVN-2800
USS Colin Powell SCVN-2801
USS Yorktown SCVN-2802 (Severely damaged - Battle of Earth - 2063)
USS Valley Forge SCVN-2803
USS Franklin D. Roosevelt SCVN-2804
USS George Washington SCVN-2805
USS Lexington SCVN-2806
USS Dwight D. Eisenhower SCVN-2807 (Lost - Battle of Demios - 2064)
USS Ticonderoga SCVN-2808
USS Chester W. Nimitz SCVN-2809
USS Bunker Hill SCVN-2810
USS Willam F. Halsey SCVN-2811
USS Saratoga SCVN-2812
Community content is available under
CC-BY-SA
unless otherwise noted.